The Office of Small and Medium Enterprises Promotion (OSMEP) and RMUTT have announced that they have successfully implemented the activity to cluster herbs, which was held on the first floor of Bangsue Junction Shopping Center in Chatuchak, Bangkok. It was part of the project to support the SME network in Thailand's herbal industry in 2017, by enabling them to build their own networks and sustainably advance Thai herbs, which began with growers, herbalists, and distributors, whom have established a cluster of herbs in nine provinces in Thailand's four regions, to boost economic growth by a minimum of 21 million baht.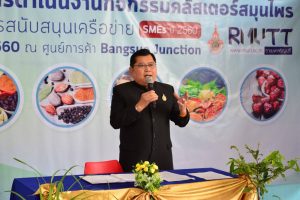 Assoc. Prof. Dr. Prasert Pinprathomrat, RMUTT President asserted that the target audience was initially 700 people, but 940 people attended. The project particularly attracted herbalists as it showcased various ways to enhance processing techniques and included a road show by Laos and Hong Kong. Moreover, The Office of Small and Medium Enterprises Promotion (OSMEP) and RMUTT will continue to advance Thai herbs in the future, with eight Rajamangala University of Technology campuses on board via providing a knowledge database and research findings to aid herb clusters. In addition, RMUTT has created an e-marketplace to showcase products in the herb clusters to stimulate market competitiveness.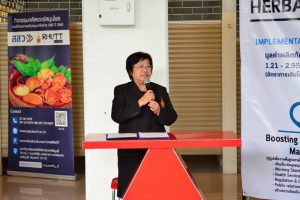 Ms. Porntip Tantiwong, Director of RMUTT's Thai Traditional Medicine College added that the activity to establish a network and develop Thailand's herbal industry, from upstream, midstream, and downstream value chains included a total of 940 members from nine clusters in nine provinces in Thailand's four regions. The Northern region consisted of two clusters – Prai Lanna from Chiang Mai province and Prai Song Kwae from Phitsanulok province. The Central region included two clusters – Phupanprai from Saraburi province and Janpanprai from Chanthaburi province, and the Northeast region included three clusters – Prairoikaensansin from Roi Et, Khon Kaen, Maha Sarakham, and Kalasin province, Praithaisakhon from Sakon Nakorn province, and Praimuangya from Nakhon Ratchasima province. Furthermore, the Southern region consisted of two clusters – Navaprai from Phang Nga province and Naksatnakornprai from Nakhon Si Thammarat province. There is also a strategic plan to develop the nine clusters and improve the capabilities of the community and cluster entrepreneurs by offering training courses to provide knowledge regarding planning, marketing strategies, branding, and building networks, to increase the capabilities of the 30 entrepreneurs. The training courses will also help entrepreneurs establish both offline and online marketing channels and include business matching activities domestically and internationally to improve their products. Five products have boosted economic growth domestically and internationally by at least 21 million baht.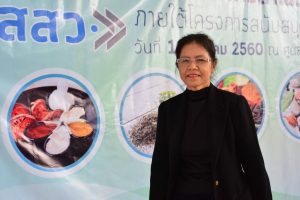 Mrs. Sujintana Paisan, President of the Naksatnakornprai cluster from Nakhon Si Thammarat province said that her cluster consisted of 40 community enterprises and 20 entrepreneurs, incorporating clusters of herbs from the Southern region. Various southern herbs were used to make products such as shampoo, soap, and beauty products, specifically Kannika Herb, derived from star fruit, which will be sold in 7-Eleven convenience store catalogs in November 2017. Mrs. Sujintana Paisan said that she obtained a copious amount of knowledge about herbs from this project as well as how to package products to make them appealing.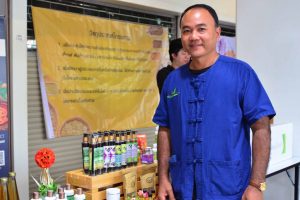 Mr. Padol Saengkudreua, President of the Roikaensansin cluster from Roi Et province said that the cluster was made up of approximately 200 members from four provinces. Consumer products that are sold at OTOP fairs, made from local herbs such as Javanese ginger, turmeric, and kaffir lime, have garnered more interest as there were researchers that provided knowledge, advice, and supported marketing of the products.