"From a dissertation, and via imagination, the Third Art Meeting and Mini Exhibition, which will be held on December 10th, 2017, will beautiful Garuda coins and Garuda amulets, coupled with the beauty of Buddhist art and the virtues of sacred art" said Asst. Prof. Dr. Suwat Saenkattiyaratart, renowned artist of Buddhist art and permanent professor in the Thai Arts program, Department of Visual Arts, Faculty of Fine and Applied Arts at RMUTT.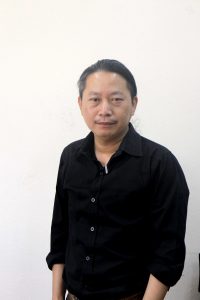 "Garuda: Bird of Power has garnered interest in both the Buddhist art and Thai Buddha Amulet industry, especially Prao Rung Garuda, a rainbow-colored Garuda that has muscular features, shiny and glittering eyes, and exquisite patterns. Most importantly, there is a Buddha statue on the Garuda's head. Additionally, the Prao Rung Garuda is considered part of Buddhism as it is one of the safeguards of Buddhism" said Asst. Prof. Dr. Suwat Saenkattiyaratart.
Moreover, creative Garuda work was inspired by Himmapan animals, which Asst. Prof. Dr. Suwat Saenkattiyaratart had been studying in-depth about. He selected the Garuda as the first Himmapan animal to showcase, and it has gathered interest from many generations of Thai and international collectors. Moreover, this year's third Art Meeting and Mini Exhibition is an event to exhibit creative Garuda work, paintings, and sculptures. It is also a small-scale sacred art exhibition that includes Garuda amulets as well as round and square coins that are favored by beauty collectors and a symbol for one to repose one's trust in and may lead one to attain Nirvana, which is divided into three parts.
An immense amount of time and elaborate work was used to create fine art and sacred art, as evident in the process of carving the candlewax prototype and molding of the Garuda.     In addition, a lecturer whom was selected by Asst. Prof. Dr. Suwat Saenkattiyaratart, was assigned to explain the details of the paintings, which was drawn on paper and on a canvas. 15 paintings of the Garuda depicted in a powerful position, using acrylic on canvas, will be showcased at the Art Meeting and Mini Exhibition.
Three Garuda sculptures, including small and large Garudas, will be on display. Each sculpture is extravagant and has great value, and some Garudas may only be reserved in the Art Meeting and Mini Exhibition. Furthermore, collectors are particularly interested in the Garuda with prestigious power, which is plated in rhodium, with black enamel to give it a magical and powerful look that adds prestige to the wearer.
The Third Art Meeting and Mini Exhibition will be held on December 10th, 2017 at Ammata Lanta Resort at Suvarnabhumi from 2 PM onwards. There will be also be forums to discuss about the Garuda and fun activities related to sacred art. For more details, visit https://www.facebook.com/suwatsaenkattiyaratart