Awesome!! RMUTT won 14 International Awards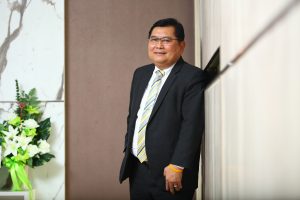 Assoc. Prof. Dr. Prasert Pinprathumtharat, President of Rajamangala University of Technology Thanyaburi (RMUTT), revealed that he has successfully sent teachers and students to show their research and invention in international Academic conference in the 10th International Exhibition of Inventions (IEI) and 3rd World Invention and Innovation Forum (WIIF) (IEI & WIIF 2018) at Foshan City, China. The RMUTT students and Techers could made the win for 14 Awards: 5 gold, 5 silver medals and 4 special awards. 5 gold medals: 1st is the Invention of Stingless Bee nest in small category for commercial production by Asst. Prof. Dr. Anchalee Sawattham and team, Faculty of Agricultural Technology. 2nd is the Stained-glass Products for Thai Traditions, Worship and Songkran by Assoc. Prof. Dr. Panchatch Inkhong, Faculty of Fine and Applied Arts. 3rd is the Design and Development for Removal Pae-Kang Fish Scales Machine by Mr. Boonthavee Pankid, Mr. Chayanon Phannoi, Mr. Wongsathorn Deeiam, Mr. Thanakrit Chantasarn and Asst. Prof. Dr. Sirichai Torsakoon, project advisor, the Faculty of Engineering. And won the Special Awards from Indonesia 7 (INNOPA). 4th is Plywood Production from Cassava Trees by Mr. Thitikorn Wongluang and advisor Dr. Supa Chulakupt, Faculty of Home Economics Technology, attached with Special Awards from the Egypt Council of Innovations and Association. 5th is Manila Young Inventors Association Philippine Gold Award for Invention from Philippine. 5 Silver medals: 1st is Plastic Tank from plastic waste by Dr. Narongchai Ocharoen, Faculty of Engineering and received a special award from India. 2nd is Orange Pork with Red Yeast Rice by Asst. Prof. Dr. Leklak Sathienrat, Faculty of Home Economics Technology. 3rd is the Acute toxicity effect of crude extracts from Piper interruptum Opiz and Zanthoxylum limonella Alston to economic pests: beet armyworm by Ms. Cholathan Chuangwong, Mr. Theraphong Thongbut, Miss Waraporn Penghon, and advisor Dr. Natchaya Khamrangsee, Faculty of Science and Technology. 4th is Innovative cosmetic products from Gros Michel banana for Small and Micro Community Enterprise by Miss Siwapreeya Nakarun, Miss Patcharida Chaiyaneth, Ms. Onanong Kongthong and advisor Dr. Chanai Noiseang, Thai Traditional Medicine College. Also they received Special Awards from Malaysia. 5th is Bio-complex Healthy Yoghurt by Miss Piyathida Chanapal, Mr. Samrat Rattanadilok na Phuket, Miss Thitima Sangkaew and advisor Dr. Surachai Techaei, Thai Traditional Medicine College.
These are the pride of the university to be able to show the potential of teachers and students about research results and inventions and an ongoing effort of the university in the international research.