Yotin Soiraya, Wongsakorn Chindapathum and  Pichit Wiseatsuwan, the students, together with Mr. Rawat Somsuk, a teacher from the Faculty of Technical Education, Rajamangala University of Technology Thanyaburi (RMUTT), collaboratively invented a coconut peeler with using just 7 seconds per a coconut.
The project owners said that "generally, there are many coconut peelers being used in the purposes of removing the coconut cover, but, this new invention is different from the others which it additionally also gives potential benefits to the farmers."
"With peeling the coconut cover by the older machine; its cover would become flakier. This is entirely different from using their invented machine which it remains the coconut cover in good condition after finished and this would lead to create more benefit when desiring to sell out coconut covers. The flaky one normally prices at 40 baht per 3 rice sacks meanwhile the good condition one, size 10x14x4 inches with 1 kilogram, priced 10 baht per each."
The owner additionally said that "the machine operation is divided into two parts; the first part is a coconut cover breaker. This part uses hands to sort out the favourable size with the distance estimation ability. The second one is a coconut cover peeler consisting with serrated blades responsible for bringing the coconut from the first step to peeling. Just switch off the machine to start operation, the coconut cover will be removed without cracking its shell."
From the test, it is found that the machine uses 5 seconds to remove one dried coconut cover with 60 centimetres in diameter. Average length cracks are 13 centimetres for length, 1.5 centimetres for width and 2 centimetres for depth. This could lead maintain good condition of coconut cover, not become flaky.
The aforementioned coconut peeler can remove the coconut cover with consuming time about 4 seconds per a coconut, or an hour per 900 coconuts. This machine is very benefital and it can potentially respond the needs of farmers.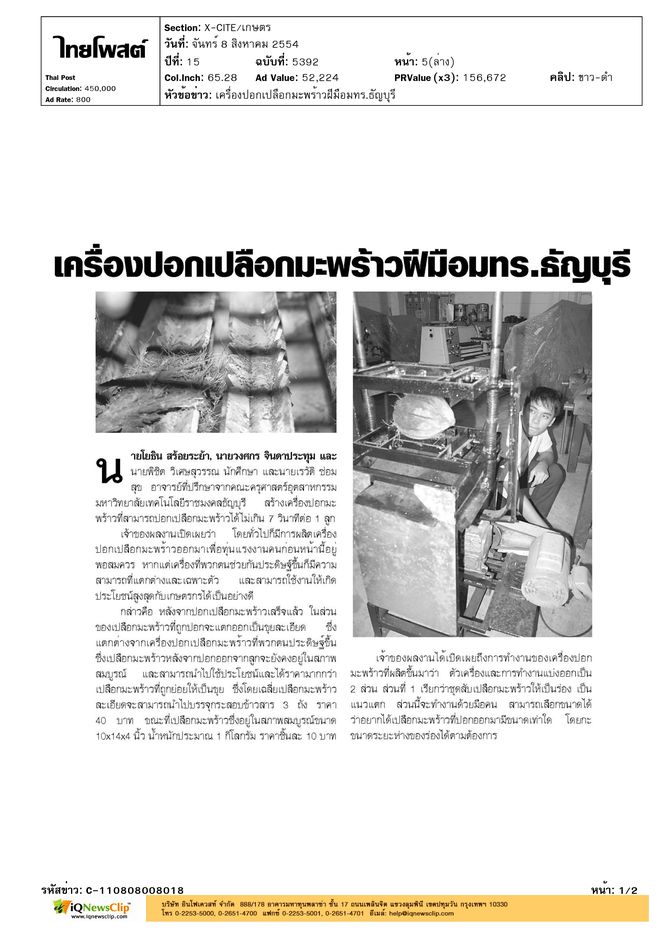 Source: http://www.news.rmutt.ac.th/archives/13929