Thai culture is familiar with the use of metal gongs for ceremonial and musical purposes. One of the main production centers for metal gongs is located in Ban Sai Moon, Pibulmangsaharn District, Ubol Ratchathani Province. Most of the metal gongs produced here were large ceremonial gongs, before Boonyarak Si-Chana came across an ideaof fashioning small souvenir gongs out of leftover metal scraps.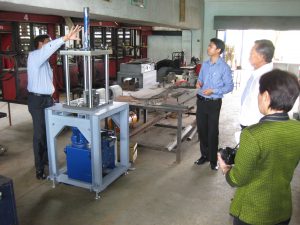 The popularity of souvenir gongs caused the demand to skyrocket, and production was not fast enough to meet this surge in demand. In an attempt to accelerate the production, Boonyarak put together a manual hydraulic press from used parts; but it was still not producing the gongs fast enough to meet the market demand.
From this problem, a team of five third-year industrial engineering students designed a prototype machine which employs an automatic hydraulic pump to shape metal and brass sheets into the final product. This project was funded by Office of the Permanent Secretary, Ministry of Science and Technology.
"The prototype has two main parts: the molding press and the hydraulic motor. Together, the machine can produce small gongs, with the size 25.00±0.5mm wide and 8.00 ± 0.5mm deep, at the rate of 20 pieces per minute," said Sarayoot Arj-noi, the team's representative.
The molded gong have consistent quality and are ready to be hand-painted and sold as souvenirs, wedding favors, and keychains. With machine production, the per-piece value has increased from 6-8 baht to 15 baht, for the brass gongs. The machine's cost of production amounts to 200,000 baht, and monthly revenue amounts to 3,000 baht. The estimated pay back period is 2.5 years.
For more information, contact Dr. Kulachart Julapetch at the Department of Industrial