RMUTT Researcher designs cordyceps mushroom control automatic systems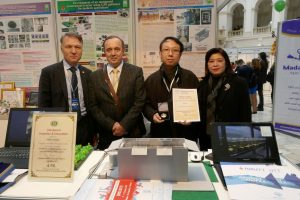 Assistant Prof. Chakri Srinonchat, researcher and teacher from faculty of engineer, Rajamangala University of Technology Thanyaburi (RMUTT), design cordyceps mushroom control automatic systems to increase agriculture production efficiency. The research project received research funding from the Ministry of Science and Technology and Gold Medal. Also received special award from Romanian Association for Non-conventional Technologies Buscharest, Romanian in 11th International Warsaw event. Assistant Prof. Chakri Srinonchat revealed that he realized that the cordyceps mushroom plat is difficult to control humidity, light and carbon dioxide. Consequence the mushroom has fungal infection and died, the amount of the product has been decreased. For these reasons the researcher decides to build the intelligence system with 10 square meter room, which could store the mushroom for 3,000 bottoms. In the Cold control room made from cold storage materials with a thickness at least 50 mm. There are cooling set with temperature and humidity sensors to measure and control the operation of the cooling switching. Also, the Air filter system could filter both carbon and air in the same time and Carbon dioxide unit control (co2) to push Co2 outside the room and be able to set up the time to open and close the system. The speed control air system also helps to measure and record various values, including notify to mobile phone with 2 mode: automatic mode and semi-auto mode. For both modes could set the temperature, humidity and sterilization system. All setting values will be in a computer. Moreover, the water pump and refrigeration could work together and there is also a data logger to store data to allow user be able to view past information such as humidity, temperature, opening and closing time of refrigerator.
Nowadays, the cordyceps mushroom control automatic systems has been set in the mushroom farm of uncle Yoot in Wihan Daeng community, Wihan Daeng, Saraburi. Mushrooms that are cultivated in the intelligence room are completed with Corducepin, Adenosine, and Polysaccharides. And the growth rate of the number of mushrooms has increased, compared to the traditional planting, and reduced mortality. The results showed that farmers are able to produce more mushrooms. For who interests more information, please contact Tel. 089-7775038.