Faculty of Business Administration tailors courses to the pressing needs of post-Covid international commerce
As the global economic climate starts to show more resilience, education sectors, including Thailand's, are taking note of the impacts on freshmen and new graduates preparing for and actually stepping into the Next Nomn mal in employment cireles where technology is playing an increasingly significant role. Unfortunately, , Thailan nd is o currently dealing with Iimited job placements amid recession, leaving entrepreneurship as
the best opportu ortunities for new graduates. "Recognising this, the Faculty of Business Administration, Rajamangala University of Technology Thanyaburi (RMUTT) has been implementing digital
solutions to sup support learning during lockdowns," says Asst. Prof. Nartraphee Tancho, Ph.D., Dean of the Faculty of Business Administration. "Meanwhile, we've been creating new education reform strategies as required to support economic recovery." The Faculty is renowned as a state-owned entity distingu guished by its practical curricula that provide students continuous professional world-ready training, including techn nology and business innovation skills. Moreover, the curricula include internship programmes with leading companies in Thailand and abroad.
Graduates of the Faculty of Business Administration, RMUTT, performed well in 2019 in terms of job placement following gradu uation. Those graduates possess needed skills cultivated in on-campus business laboratories, including stock market, e-comand computer labs. They have also been able to capitalise on entrepreneurship courses that gave them options to own online stores and equipped them with the practical expertise demanded by actual business management.ecommerce,
In another boon for business students, the Faculty furnishes es the freshmen (I' year) students with the knowledge and skills they need to become online
entrepreneurs. urs. Meanwhile, the entrepreneurship programme also offers sophomore (2nd year) students courses tuned to their major. They acquire practical, professional skills necessary to develop their efficiency, effectiveness and knowledge. Part of this involves developing essential ICT (Information and Comm nunications s Technology) know-how along with a foundation in social media and e-commerce.
Following completion of the programme in the 3u year, and prior to their internships, studen nts are required to create their own modern business
plan. The business plans are then used as guidelines for workshops hosted by the Faculty of Business Administra tration. At the conclusion of the summer
semester, the students embark on a four-month professional internship in their chosen feld.
As digital transformation is highlighting logistics operating systems along with big data and other elements of business intelligence, RMUTT has built partnerships with world-leading universities focusing on business technology innovation. For instance, RMUTT has launched a Pathway Program nme for M.5 a and M.6 and prospective students who wish to obtain a bachelor's degree at University of Otago, New Zealand's oldest state university, recognised for its research-intensive programmes and innovative development. The university is ranked in the top 1% in the world (QS World University Rankings) and top 1% of business schools (EQUIS, AACSB). Moreover, 95% of University of Otago graduates find job placements around the world or further their higher education at other world leading academic institutes.
The Pathway Programme in Business Foundation Studies combines 2-semester (26 weeks) study taught by Otago and RMUTT professors. Seven subjects comprising Academic English 1, Academic English 2, Introduetion to Marketing, Introduction to Accounting,Business, Applications of Computing,and Introduc uction to Management, are instructed online by Otage's professors. Three other subjects Mathematics for Comn merce, Economics, comprising and Introduction to Busin iness Finance, are taught face- to-face by RMUTT professors at RMUTT Innovation & Knowledge Center, 7 h floor at Thai-New Zealand Centre (TNZC), Bang Sue Junction (DD Malll.Chartuchak, Ba Bangkok.
"THAILAND IS CURRENTLY DEALING WITH LIMITED JOB PLACEMENTS AMID RECESSION, LEAVING ENTREPRENEURSHIP AS THE BEST OPPORTUNITIES FOR NEW GRADUATES."
The Faculty of Business Administration,RMUTT, is now open for M.6, vocational and high vocational (2-year transfer curricular) graduates. Available courses are as follows: Marketing, Retailing, Exhibition & Event Marketing, Innovative Business Administration, Human Resources, Finance, Accountancy, International Business, Logistics & Supply Chain, Business Computing, and Business Economics.
Ahead of the new academic year, the faculty has signed collaborative agreements with some of Thailand's leading enterprises, including: Home Products Center Public Company
Limited (HomePro) noted for its outstanding logistics management; Dutch Mill Company Limited whose new sales strategies anchor its prominent achievements, and; longstanding
partner Big C Supercenter Public Company Limited which has been supporting RMUTT student internship programmes from the beginning.
However, many graduates are opted to choose to craft their skill through higher academy. In responding to these trends, the Faculty has redesigned its master's degree and Ph.D. programmes accordingly.
Master's degree programmes, including Management, IT System, Marketing, Accountancy, International Business, Business Engineering Management, Finance, and Logistics Management, are also available as English Programmes for both Thai and international students.
Meanwhile, the Ph.D. programme focuses on research-based study, designed for academic and advanced professionals. The programme is open for master's degree graduates from domestic and international institutes. Classes are taught in Thai and English with two options: research only or course work and research. Accountancy, Marketing, Management, IT, and International Business Management courses are available.
"No matter what direction post-Covid education takes, dynamic development is the best solution for the future," concludes Asst. Prof. Nartraphee. "Today's academic planning must always be looking ahead."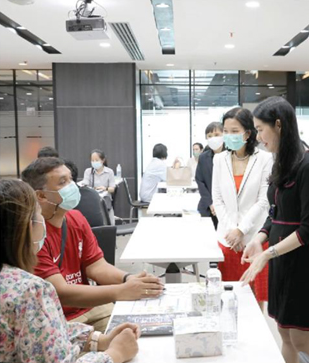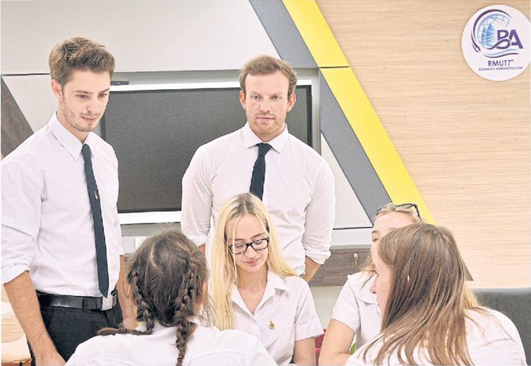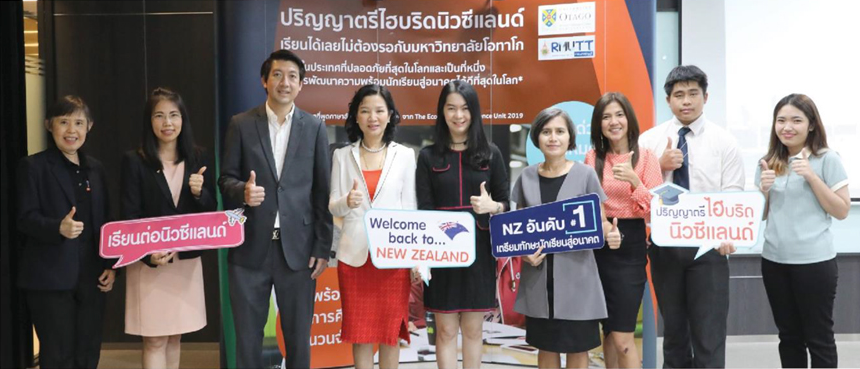 FOR MORE DETAILS BACHELOR'S DEGREE (THAI)
www.bus.rmutt.ac.th
Tel. 0 2549 3241, 0 2549 3243
Facebook: Bus.rmutt
Line: @barmutt
BACHELOR'S DEGREE (INTERNATIONAL)
www.bus.rmutt.ac.th/inter_web
Facebook: IBBARMUTTOfficial
Tel. 0 2549 4809
MASTER'S DEGREE
www.mba.rmutt.ac.th
facebook: bus.mbarmutt
Line: mbarmutt
Tel. O 2549 4835-6. 08 4935 2662
Ph.D. PROGRAMME
www.bus.rmutt.ac.th/phd
Facebook: Phd.bus.rmutt
Tel. 0 2549 4819, 08 1795 2191