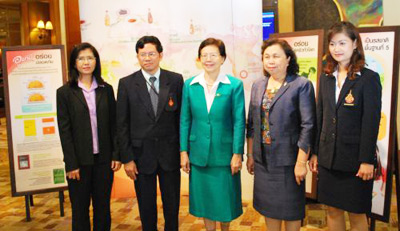 Recently,  Ajinomoto  Co., (Thailand)  Ltd  has  cooperated  with  Rajamangala  University  of  Technology  Thanyaburi, led
by Asst. Prof. Pranee Punwichien and Asst Prof. Dr. Chareorn Chareornchai, dean of Faculty of Home Economics Technology, conducted  the  seminar on "Thai  Youth  Concern on  Health  Care" (food and nutrient)  at  Miracle  Grand Hotel, Bangkok Convention. Participating in this seminar, there are more than 300 teachers who are teaching in the high school level in the Bangkok and area nearby.
As well as here, the participants could know about the knowledge of Umani taste and Glutamate in order that she or he can make their healthy food menu with the better taste of food.
Besides, Prof. Dr. Amornrat Charoenchai, a former dean of Faculty of Home Economics Technology and other experts have also bestowtheir honorable time to answer all questions during the talk.