Klong Six Architect Drums "Have Faith in the Drum's Rhythms and Composition"
Klong six architect drums "12 years, 9+1 drums, 100 drumsticks – what is present in front of each person may just be wooden sticks, animal skin, or a Thai musical instrument, but architect drummers perceive these items as a "teacher" that used to be alive. Present in the form of a drumstick or animal skin, the teacher had to sacrifice their body and consequently became what others would call a drum. Thus, it comes as no surprise that Klong six architect drummers are disciples, whom deeply love, cherish, and take care of their teachers. No one other than the respective drummer can touch or play the drum because the "teacher" is considered a spiritual anchor in every drummer's hearts, and even for other Klong six architects.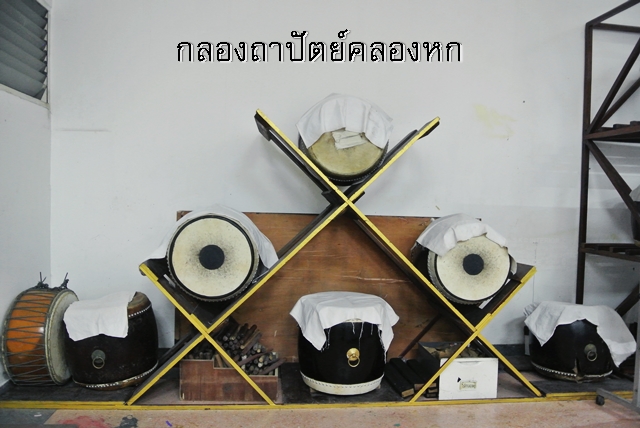 The beginning of architect drums
An architect drum, or glong thad, is used in Thai orchestras, and is somewhat similar to double-headed drums, drums used during war time (glong ork rope), and victory drums (glong sabad chai). The architect drum got its name because Chulalongkorn University's architects were the first in Thailand to play this drum. Previously, Chulalongkorn University played Tom-Tom drums, which were created by foreigners. HRH Princess Maha Chakri Sirindhorn has respectively awarded the glong thad as permanent drums for the faculty. Five universities that were respectively awarded glong thad were Chulalongkorn University, Kasetsart University, Silkpakorn University, Khon Kaen University, and Chiang Mai University.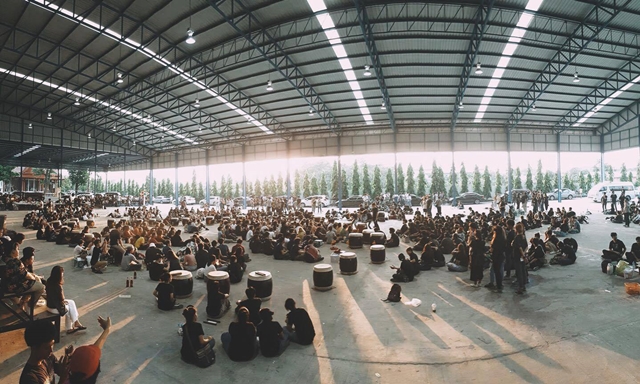 Afterwards, the Faculty of Architecture in various universities across the nation have used drums as a unique symbol of the faculty, which evolved into a tradition that every Faculty of Architecture must have their own drums. Furthermore, each university deploys the same selection process. There is also an annual architecture drum (Archdrum) event wherein Faculty of Architecture nationwide gather to strengthen relationships. Event activities include cheering or drum duels, sharing and exchanging knowledge such as drum rhythms, and making new friends. Each university has its own songs and rhythms, which set it apart from other universities.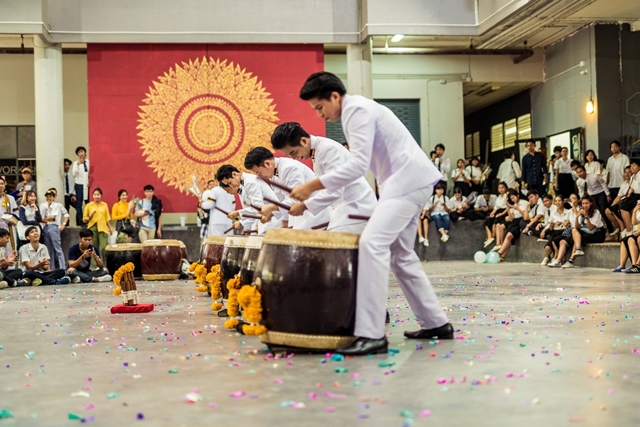 Klong six architect drums
Drums: The drums are made of cow skin and the drumsticks are made of keng wood, shorea obtusa wood, iron wood, and other types of hard wood. Equipment used for playing the drum include the drum itself, drumsticks, drumstick case, a secondary drum that is placed atop the drum stand, and a white calico cloth.
The uniqueness of playing the drum: Each university has its own way of playing the drum. To exemplify, when RMUTT (Klong six) plays the drums, it is projected as strong and aggressive. Drummers also have to maintain good posture when playing the drum as well.
The faculty's song: The following songs: Kulthapad, Arceehip, Thapad Roob Ror (Handsome architect), Sor Thor Keemao (Drunkard), March Thapad (Architect march), Sathapad Pu Sang Fun, and Thapadthoranong (originally from King Mongkut's Institute of Technology Ladkrabang (KMITL)) rhythms have been adjusted so they are unique to RMUTT. The standard 10 beats rhythm is an exercise that everyone should be able to play, called the big percussion.
Becoming a drummer
Each drummer will be selected from their physical and mental strength. Prospective applicants do not need to know the basics of playing the drum but should have the intention to excel in it. Once applications are accepted, (solely open to first-year male students in the Faculty of Architecture), prospective applicants do not instantly become architect drummers. They will have to exercise, do sit-ups, run, and practice self-discipline. They may have to run up a building's eight floors or run around the university depending on seniors in preceding classes.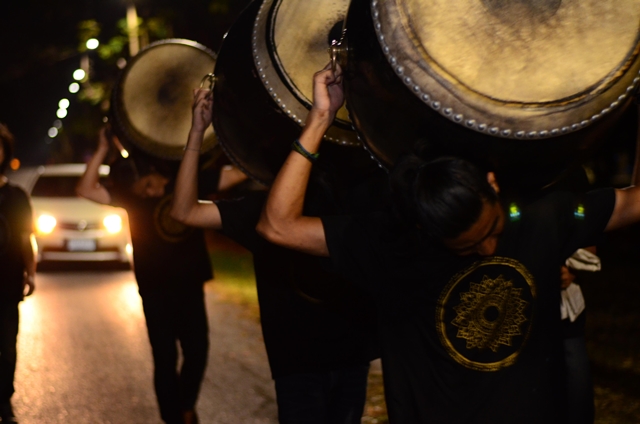 Moreover, the physical test lasts one year, which may seem harsh, but, everything is done for the sole purpose of strengthening one's body so one can carry the drum and handle the pressure. Every drummer is required to go through intense training until he may be considered a drummer. He has to undergo a selection process, the process of handling the drum for the first time, and induction. Playing the drum does not simply require strength, but the drum has to be played with one's heart. The beats should be refined and not played in short increments. Additionally, being an architect drummer is a name that sticks for life, and in the future, one should also teach other junior architect drummers.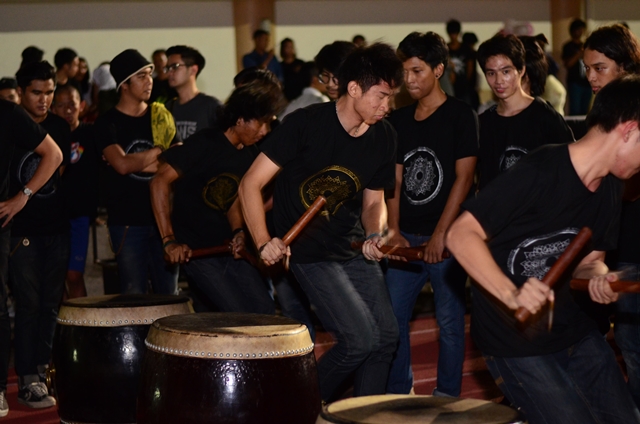 Beliefs about drums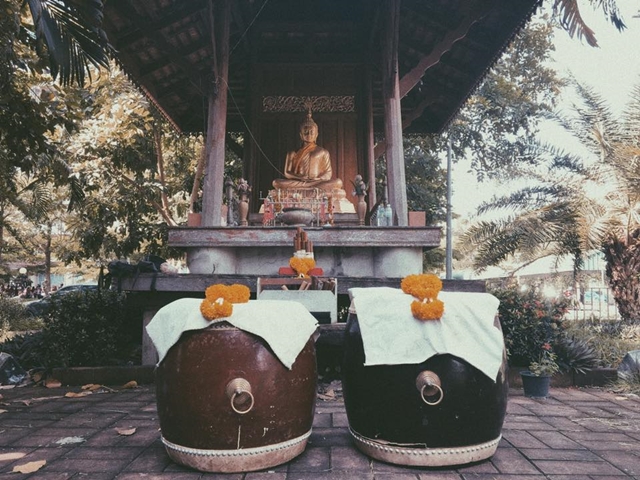 Everyone respects the drum and takes a lot of pride in playing the drum as drummers must go through a rigorous process until they can be called a drummer and play the drum. The architect drum is played due to its magical power, which adds to its uniqueness. When played, one will feel lively and distinguished. It is also a tradition that each architecture class will have its own drumsticks. It is believed that this musical instrument has a teacher, and one must pay homage to the drums before practicing with it. There will be a drum ceremony wherein a garland is placed over each of the 11 drums and their respective teacher's drumstick. The ceremony is held in front of the Faculty of Architecture's worship hall prior to performing at big events.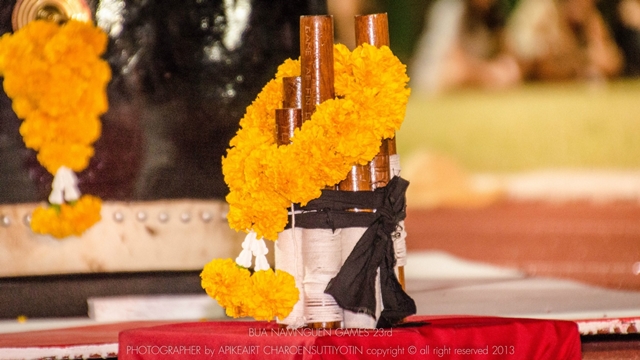 Each drummer's name is carved on the drumsticks and tied together with a Sai Sin (ceremonial white thread), then placed on a red cloth. The drummer will hold the garland, which is representative of being a drummer from preceding classes. It is also a way to give encouragement as some performances require six people, but the drumsticks contain a name of a senior drummer from the first class. Thus, figuratively, not only six people are playing the drum, but other senior drummers help play it as well.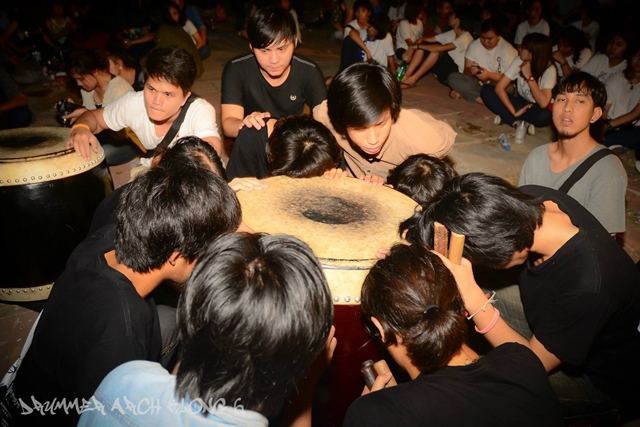 Everyone believes in and respects the drum. One should not disparage or cross over the drum. Furthermore, women's skirts are not allowed to brush against the drum. According to the tradition of Klong six architect drummers, women were not allowed to become drummers due to the large size and weight of the drum, in addition to rigorous training that women must go through. There was once a class that had a female drummer, however, there were no female drummers since then.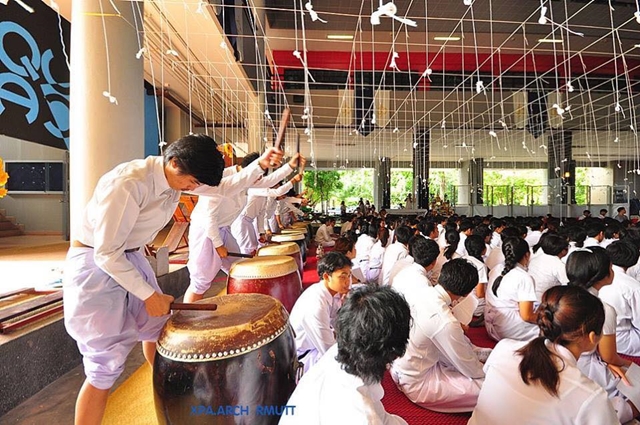 It is believed that one cannot touch or play with the drum if one is not a drummer in the Faculty of Architecture. The drum represents a teacher, and if one touches the drum, it is as if one is touching the teacher. The drum is highly valued as there is a selection process and various ceremonies held to choose new drummers.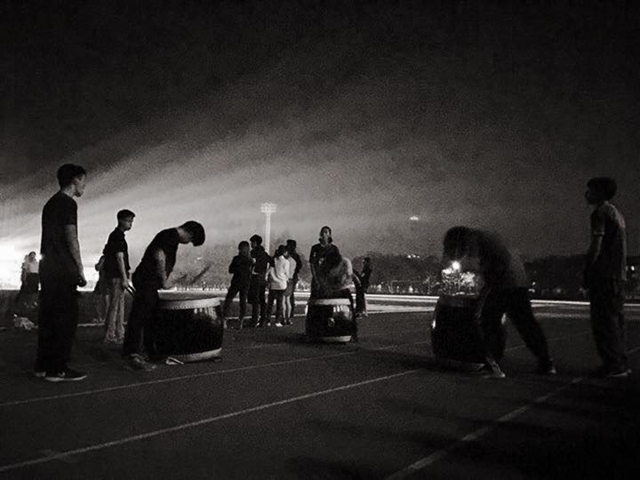 The drum teacher's story
Every drummer had to go through a sacred selection ceremony. One day, there was a man whom had to carry the drum to an event, but he was not a drummer. His senior brushed against the drum as he helped put it in the car. That night, he dreamt that someone told him not to touch [that person] again.
Before the blue lotus event (university sports day), there was a ritual to pay homage to the drums of seniors in the 11th generation. The drums were kept once they paid homage and would be used at the event the following morning. When he closed the doors of the drum room, he heard a loud beat, like someone had hit the drum. It was the oldest drum, which belonged to the teacher, but the room was already locked and there was definitely no one inside the room.

This story was passed down from a senior named Choke, a fifth-generation drummer. He participated in an event, and during the meeting, someone was influenced by dark magic and kept uttering that he feared the drum teacher. When Choke walked towards the woman that was affected by dark magic, the child that had influenced the woman said that she feared the drum teacher and said not to come any closer. Consequently, Choke asked why she feared the drum teacher and the woman said that she played with the drum once and was scolded by the drum teacher. Everyone believed her story at the time and no one dared disrespect the drum.